Table of Contents
The history of the UFC is littered with some classic rivalries which helped to build the sport we know today. And while many people often ask which were the best rematches in the sport. Some also would like to know which top fighter has the most rematches in UFC history?
There are several fighters who have had multiple fights against the same opponent. From two or more which are shown in my list. The fighter with the most rematches in UFC history is BJ Penn with seven.
Shop Best Selling Fighter Apparel and Merchandise
And there are plenty of big names who have made it to the list. Some of the most dominant champions the sport has known. One question that always pops back into my mind is, what if?
| Fighter | Rematches |
| --- | --- |
| Jon Jones | 2 |
| Anderson Silva | 3 |
| Stipe Miocic | 3 |
| Cain Velasquez | 3 |
| Daniel Cormier | 4 |
| Georges St Pierre | 5 |
| Randy Couture | 5 |
| Chuck Liddell | 5 |
| Tito Ortiz | 5 |
| Matt Hughes | 6 |
| Frankie Edgar | 6 |
| Bj Penn | 7 |
UFC fighters with the most rematches in the sport
Jon Jones – 2
Now the former UFC light heavyweight champion is one of the most dominant fighters in the sport. So unluckily for most of his opponents, owing to the fact that their fights were often so one-sided. A second shot at the champ was highly unlikely.
However, there were two names who both got a second bite of the cherry. And that was Alexander Gustafsson who Jones won a close decision against at UFC 165. And then a rematch at UFC 232, where Jon would go on to win convincingly.
And then there was, of course, his partner in one of the greatest rivalries the sport has known Daniel Cormier. The pair first met at UFC 182 where the champion clearly won the fight.
Then again at UFC 214, where Jones would once again win. The result was later overturned when he tested positive for performance-enhancing substances.
Anderson Silva – 3
Regarded by many as the greatest pound for pound fighter in UFC history. Anderson Silva ruled over the middleweight division from 2006 to 2013, in one of the greatest title defences the sport has seen.
Silva seemed to deal with his opponents with so much ease, it bordered on contempt. At one point moving up to light heavyweight to test the waters as there were no clear challengers at 185 lbs.
Taking the title from Rich Franklin at UFC 64 in a win that shocked many UFC fans. Franklin would get a second bite of the cherry at UFC 77, again losing via Silva's devastating Muay Thai knees.
Silva would continue his reign unabated, facing the challenge of Chael Sonnen at UFC 117. In a fight where Sonnen was winning, Anderson would pull off a late triangle submitting his game challenger.
He faced Sonnen yet again at UFC 148, however this time the win was definite. And setting Silva on course to continue his domination. But his next fight at 185 lbs against rising star Chris Weidman at UFC 162 would see his championship be taken away.
Then once again losing when he faced Weidman at UFC 168. This time suffering a catastrophic leg injury that for many signalled the end of his time at the very top of the sport.
Stipe Miocic – 3
The UFC heavyweight champion of the world. Stipe Miocic holds the record for the most consecutive heavyweight title defences in UFC history at 3. But prior to him winning the title against Fabricio Werdum at UFC 198, Stipe had fought and lost to Junior Dos Santos.
Once he had the title, Junior again came knocking at his door at UFC 211. But this time Miocic was ready and slammed it shut in the Brazilian's face. Soon after getting past Francis NGannou at UFC 220, Stipe would face Daniel Cormier in a history-making trilogy.
Losing the belt to Cormier at UFC 226, the pair would go a second time at UFC 241. And this time Stipe would emerge the victor, stopping DC in the fourth round.
At UFC 252 a third and final fight was lined up and yet again Miocic would reign supreme. Holding on to his title and snubbing Cormier's dream of retiring as the UFC heavyweight champ.
Cain Velasquez – 3
Many believed that when Cain Velasquez ruled the UFC heavyweight division. He would remain the world's number one for a very long time. But MMA has a funny way of smashing many of those expectations.
Shocking MMA fans by beating the champion Brock Lesnar at UFC 121. The world looked to be Cain's oyster, until of course his first title defence where he lost to Junior Dos Santos.
His second shot at Junior would come at UFC 155 where he reclaimed the belt. Going on to defend it against Antonio Silva who he had already beaten in their previous fight.
At the end of 2013, he would face Dos Santos for a third and final time at UFC 166. Defeating the Brazilian and retaining his heavyweight crown. It would be almost two years before he fought again. Losing his title to Fabricio Werdum in Mexico.
Daniel Cormier – 4
At one point in time, Daniel Cormier was the UFC light heavyweight champion of the world. He would win the vacant belt at UFC 187 against Anthony Johnson. Having lost in his previous attempt against P4P great Jon Jones.
He would face Johnson again at UFC 210, successfully defending his title in their rematch. But would again lose the belt to Jon Jones at UFC 214, only to have the belt handed back to him following Jones's positive test for a banned substance.
Not content with simply being a one-division champion. DC made the decision to move up to heavyweight and face off against the undisputed Stipe Miocic. Shocking the world when he stopped the champion in the first round.
The pair would fight again two more times at UFC 241 and UFC 252. This time with Miocic retaining his heavyweight crown.
Cormier is right up there when it comes to talking of the GOAT. And while he did lose to Jones and Stipe. He is still one in an elite group of two-division UFC champions in the sport.
Georges St Pierre – 5
GSP aka Georges St Pierre ruled the UFC welterweight division for six years. And while he did hold the title for longer, there was the little matter of losing it to Matt Serra at UFC 69, before getting things back on track.
Losing to Matt Hughes in their first fight at UFC 50. St Pierre would take the title from Matt at UFC 65. Before going on to defeat him again at UFC 79.
He got his opportunity to regain the championship he had lost by taking out Matt Serra at UFC 83. Before going on an unprecedented run in the welterweight division.
Defeating fellow legend B.J. Penn for a second time at UFC 94. Before handing Josh Koscheck the second loss in his title bid at UFC 124.
It's unfortunate for many of these great fighters that their career spanned the same period as the pound-for-pound great St Pierre. But in the sport of MMA, such champions do from time to time come along.
Randy Couture – 5
For a guy who came to the sport of mixed martial arts in his early thirties. Captain America, The Natural, Randy Couture didn't do half bad. Winning a record seven titles across two weight divisions. Inside the octagon Couture in the prime of his midlife was a machine.
Taking elite fighters and simply breaking their will. Randy like no other at the time was able to simply impose his sheer will on some of the toughest men in the world.
Taking on Brazilian phenom Vitor Belfort all the way back at UFC 15. It would be a full seven years before he would meet him again at UFC 46 and UFC 49. Ending the trilogy of matches with a record of 2 – 1.
He would also defeat the former champion, Pedro Rizzo, in both of their 2001 bouts, one of which became the Fight of the year.
Known for his relentless grinding style, Randy would win the UFC light heavyweight championship from Chuck Liddell at UFC 43. Losing in their next two rematches at UFC 52 and UFC 57.
A true legend of the sport, Couture is right up there in terms of the Mount Rushmore greats who built the sport of mixed martial arts we know today.
Chuck Liddell – 5
There's an old saying in the world of combat sports it goes Jesus loves knockouts. Well, if that were true, then Jesus would be a Chuck Liddell fan. Because as we know, the Santa Barbra native was revered in the sport for his stopping power.
Whether in Pride Fighting championships or the UFC. Once The Iceman let those hands go, anything could and usually did happen. Giving us some of the most classic moments inside the UFC's octagon. Liddell helped to define a generation, while at the same time helping to shape the sport of MMA.
Taking on dangerous grappler Jeremy Horn way back in 1999. Chuck would face him again at UFC 54, this time winning via TKO. Another of his victims was Brazilian Renato Sobral, beating him at both UFC 40 and the rematch at UFC 62.
And his legendary trilogy fights with Randy Couture gave UFC fans some of the sport's most iconic moments. Losing his title to the challenger at UFC 43. Then took the belt back at UFC 52, defending it again at UFC 57. And on both occasions stopping Couture via knockout.
And of course his one-time training partner and former champion Tito Ortiz. He beat at UFC 47 and defended his title against UFC 66 via KO and TKO respectively.
A fighter who led many others to take up the sport. He is still to this day held in high esteem throughout the world of MMA.
Tito Ortiz – 6
The Huntington beach bad boy Tito Ortiz. Today Tito has become somewhat of a meme amongst a contingent in the MMA world. But those who may think they know should realise that at one time Ortiz was one of the most feared MMA fighters on the planet.
Tito ruled the UFC light heavyweight division until a certain Chuck Liddell and Randy Couture showed up on the scene. With his bleached blond hair and flame-adorned shorts. He was, without a doubt, one of the biggest names in sports history.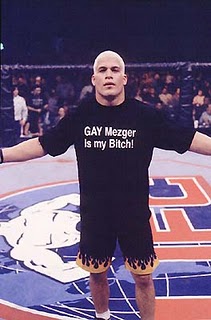 And on top of all of that, he was also a fighter who rematched his opponents a gut-wrenching six times! Taking on his nemesis Ken Shamrock who he had already beaten at UFC 40 in 2002. And a further two times in 2006, winning every fight.
He would face previous training partner and reigning champion Chuck Liddell at UFC 47, only to lose to him again at UFC 66. As well as Forest Griffin who he beat at UFC 59, losing at UFC 106 and UFC 148.
He would also get a draw and a loss against former division champion Rashad Evans, rematching at UFC 133. A true icon in a broader sense, he still continues to fight after twenty-three years as a pro.
Matt Hughes – 6
The former UFC welterweight champion Matt Hughes was one of the most dominant the sport has known. Reigning throughout the period of 2001 to 2004 and again from 2004 to 2006. His fights against fellow 170 lb future Hall of Famers gave us some of the sport's most iconic moments.
Taking the title from Carlos Newton at UFC 34, Matt would go on to face the former champion again at UFC 38, winning the fight. After which he would face Frank Trigg in two mirror-image fights at UFC 45 and UFC 52. Winning both by rear-naked choke at almost the exact same time in both bouts.
His three epic fights against B.J. Penn, who took his title at UFC 46. Matt won their first rematch at UFC 63 and Penn once again claimed another victory at UFC 123. Making in 1 – 2 against the Hawaiian phenom.
Matt would also defend his welterweight championship against rising Canadian star Georges St Pierre at UFC 50. A feat he would not achieve again as St Pierre clinched the title in their rematch at UFC 65. Before cementing their trilogy against the former champion with another win at UFC 79.
Matt Hughes retired from the sport in 2011 and is remembered as one of the sport's great champions. Today he is recovering from a car accident involving a train that almost took his life.
Frankie Edgar – 6
The former UFC lightweight champion's nickname really should be the comeback kid. At one point it seemed as though Frankie's name was continuously in the mix whenever a lightweight or featherweight title was up for grabs.
A top-ten fighter for the majority of his career, Frankie would go on to rematch some of the very best in the sport. But never quite rising to the occasion to regain a UFC title.
Winning the title from B.J. Penn at UFC 112. He would rematch Penn again at UFC 118, retaining his championship. Then meeting him again four years later at the TUF 19 finale, once again getting the victory.
With his three fights against Gray Maynard who he originally lost to in 2008. Then rematched at UFC 125 and UFC 136, with both ending in a draw and a win respectively.
He would lose his title to Benson Henderson at UFC 144. Then when they rematched at UFC 150, Henderson yet again emerged as the winner. A loss that seemed to spur a move to featherweight where he would lose in a title fight to champion Jose Aldo Junior.
Before once again going on to face his old foe, B.J. Penn, at the TUF 19 finale, who he would finish decisively for the third time. Before taking on Aldo once again for the featherweight championship, in a fight, he lost via decision.
BJ Penn – 7
My first recollection of The Prodigy B.J. Penn is when he fought Din Thomas. Firstly sprinting into the octagon while all while looking like a caged animal. With a demeanour that was of someone bordering on manic.
And it was his aggressive style and undeniable skills that would lead the Hall of Famer to one of the greatest careers the sport of mixed martial arts has seen.
Penn would face off against Japanese fighter Caol Uno at UFC 34, winning in just 11 seconds via knockout. And when the pair met again at UFC 41, the fight has deemed a draw.
He would then get his shot at the bantamweight crown against Jens Pulver at UFC 35. Losing in his bid, but winning the rematch in 2005 at The Ultimate Fighter Finale.
Winning the welterweight title against Matt Hughes via rear-naked choke at UFC 46 Supernatural. B.J. would go on to lose in their second encounter at UFC 63. Before getting back in the win column at UFC 123, giving him a 2- 1 record over the former champion.
B.J. also faced Georges St Pierre at UFC 58 in a UFC Welterweight title eliminator. A fight he lost before rematching again at UFC 94, once again failing in his bid to beat the Canadian MMA icon.
Then at UFC 112, he was challenged by Frankie Edgar for his lightweight championship. Losing the fight and setting up an epic trilogy that would see the pair face off two more times.
At UFC 118 where he tried to regain his belt. Then four years later making his featherweight debut at the TUF 19 Finale, where he would once again lose.
But with his title wins in both the welterweight and lightweight divisions. B.J. Penn became the first fighter in the UFC to hold two titles in two weight divisions. Forever cementing his legacy as one of the all-time greats of MMA.
Let's Finish This!
So I hope you enjoyed this little run-through showing the UFC with the most rematches in the promotion. Some of the greatest fighters the sport has known, in some of the most iconic fights ever seen.
Today the sport of mixed martial arts is built on the foundation of fighters like these. Fighters who put it all on the line time and time again in the quest for greatness.
Without them, who knows where things would today stand? And without their sheer will land dedication to their craft. The world of combat sports would indeed be a much emptier place.
Hi, I'm Ross and I am nearer to 50 than to 40! I have been involved in Martial arts and fitness for most of my life. With a professional working background as a licensed insurance agent. I wanted to share my journey with the world. So that others too can learn from my experiences.