Table of Contents
Getting punched in the face can be quite an unsettling feeling. But when you are a professional MMA fighter, it's all very much part and parcel of the job. So the question often arises as to who is the hardest puncher in all MMA history?
The sport of MMA is littered with plenty of hard punchers. However, one stands above the rest in heavyweight fighter Francis NGannou. Who was registered by the UFC as the hardest puncher on record. Measuring 96 horsepower, which is equal to being hit by a Ford Escort going at full speed.
But as the vast majority of fighters never actually have their punch measured. Outside of those totally inaccurate punching machines, we find in arcades.
We will instead have to rely on real-world opinions and examples from some of the world's best MMA fighters, coaches and pundits. To see if we can elaborate on who else carries dynamite in those 4 oz gloves.
Wanderlei Silva
Known for knocking out some of the biggest names in Pride fighting championships. The Axe Murderer Wanderlei Silva is regarded as one of the hardest hitters in the sport.
And this can be attested to by some of his former opponents who have rated him as one of the strongest punches with which they have ever been hit. And when you look at some of the people he has fought, we can see the huge disparities in weight he had to overcome.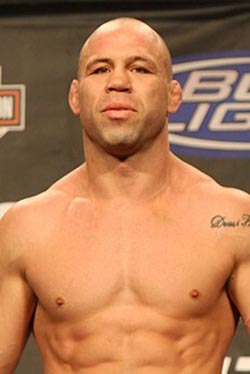 Where middleweight was his fighting weight, Silva also fought a string of heavyweights including Mirko Cro Cop, Mark Hunt and more. He did lose on both occasions via a split decision against Hunt. And via a huge knockout kick to the head by Mirko Cro Cop.
And it was his long-time coach from Chute Boxe Rafael Cordeiro, the guy Mike Tyson drafted in to help in his return to heavyweight boxing. After being on the mitts with Tyson, rated the heavyweight kingpin along with Wand as two of the biggest punchers he has trained.
So Silva is not in bad company when his name is mentioned alongside one of the biggest knockout artists in the history of fighting sports. And while not one of the best strikers in the sport of MMA. He was at one time, without a doubt, one of the most feared.
Dan Henderson
The former UFC middleweight tournament champion and Pride middleweight champion, Dan Henderson had his right aptly named the H-Bomb. After the nuclear weapon was used during World War II to bring an end to the conflict.
Hendo has fought across four weight divisions from welterweight right up to heavyweight. A feat that is almost unheard of when it comes to all but a select group of professional MMA fighters.
But Henderson was one of the best to ever do it. And one of the main reasons he was able to compete inside such a wide range of weight divisions. Was down to the enormous knockout power he possessed, especially in his right hand.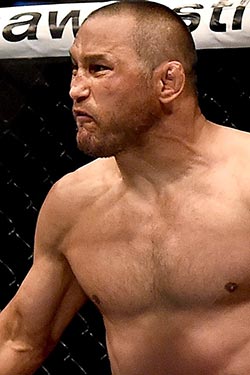 Fighting everyone from Renzo Gracie at welterweight, right up to Fedor Emelianenko at heavyweight. When the pair met in July 2011, Henderson was one of the first men in history to stop Fedor via TKO, giving us one of the most famous moments in all MMA.
And while he may never have won the UFC middleweight title. His knockouts of former UFC champion Michael Bisping. And his legendary wars with MMA legend Mauricio Shogun Rua.
These are amongst some of the most iconic moments in the sport. Now retired, his place in the annals of MMA history is ensured. Following his induction into the UFC Hall of Fame at the Fan Expo on July 5, 2018.
Mark Hunt
The former K-1 kickboxing star was never meant to be an MMA fighter. After a successful career in K-1 kickboxing, Hunt signed with Pride fighting champions in 2004. Winning five of his first six fights, things were looking pretty good for a guy who had zero ground game.
But what he lacked on the ground, he made up for he made of for with devastating knockout power on the feet. Bringing his extensive resume from the world of kickboxing and applying it to MMA.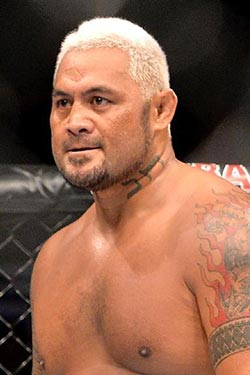 He was able to navigate his way through his early fights before eventually becoming unstuck in 2006 when he hit a six-fight losing streak.
Offered a way out of his contract with his new bosses at Zuffa. Hunto San decided to carry on and through sheer persistence and learning some grappling, was able to force his way into the top ten of the UFC. Along the way knocking out Roy Nelson, Antonio Sila and former champion Frank Mir.
He would go on to become best known for his walk-off KOs. Where when he landed the perfect punch and knew his opponent was out for the count. Ended up walking away before they hit the canvas.
A true fight fan favourite, we are super glad he decided to tough it out and remain in MMA. If not, fans would have been robbed of some of the best knockout stoppages the sport has known.
Anthony Johnson
The former four-weight class top UFC light heavyweight contender Antony 'Rumble' Johnson. Is widely regarded as one of the hardest hitters in all MMA. Another rare breed of fighter who has competed from welterweight right up to heavyweight.
Looking back at his devastating stoppages of welterweight opponents and the destruction of others in the 205 lb division. We often wondered how he was able to make it to the 170 lb limit.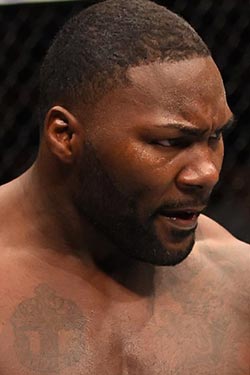 "It's like sprinting into a brick wall and saying, 'I can't stop' and boom, you hit the wall."

Charlie Brenneman on getting hit by Anthony Johnson
But regardless, the hard-hitting top contender got to within a hair's breadth of becoming the UFC light heavyweight champion. Losing to the future Hall of Famer, UFC champion Daniel Cormier.
Cormier would later comment that Rumble was the hardest hitter he had ever competed against. With his punches quite literally moving him around the octagon. And when he would miss, you would still hear them whistling past your head.
And while Johnson may not have won a UFC title. He is remembered as one of the most devastating finishers in the sport.
Shane Carwin
Before his retirement, UFC heavyweight Shane Carwin had held a record of 12 – 2. With all twelve of his wins came via submission of KO in the very first round of the fight.
Known for his unusually large hands. He along with Brock Lesnar is the only two UFC fighters I am aware of who used XXL 4 oz gloves when they competed in the octagon.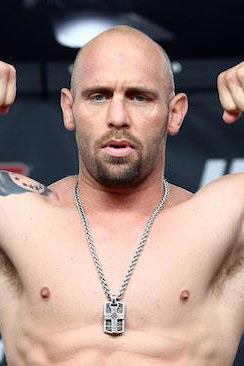 Carwin's concussive power was visible for all to see with his one-punch knockouts over Christian Wellisch and Gabriel Gonzaga. Both of who he stopped with just one punch.
But his time in the UFC would be relatively short-lived, as the promotion fast-tracked him to a title shot. Carwin willingly obliged beating former champion Frank Mir for the interim title. Setting up a showdown with Brock Lesnar for the championship.
However, he would falter in his fight with Lesnar, losing via arm-triangle choke. Before going on to fight just one more time in the UFC. A late bloomer in the sport, he would retire in 2011 at the age of thirty-six. Many fans believe he could have captured the belt. It was a sad loss for the UFC heavyweight division.
Paul Daley
Not by any means the biggest of fighters physically, Paul 'Semtex' Daley is known as one of the hardest hitters in all mixed martial arts. His seemingly effortless knockout victories are that of legend. And set him apart from many other fighters who dominated at the 170 lb limit.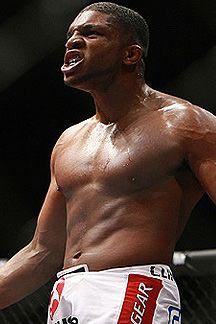 Nicknamed Semtex after the explosive material used widely by the Irish Republican Army in their fight with the British government. Daley became known for his hard-punching power and explosive finishes inside the cage.
His knockout wins over Scott Smith and Martin Kampmann are amongst some of the most well-known in the sport. But it was his wars with Josh Koscheck, where he was disqualified.
His epic fight against Nick Diaz where he lost via TKO is amongst some of the most well-known fights in the sport, for which he will be best remembered.
A pity he managed to get himself kicked out of the UFC, as no doubt he would have made some waves at the top.
Igor Vovchanchyn
The Ukrainian former bare-knuckle fighter who turned to MMA may not be a household name amongst many current-day MMA fans. But the rather undersized light heavyweight was amongst one of the most ferocious punchers to have ever competed.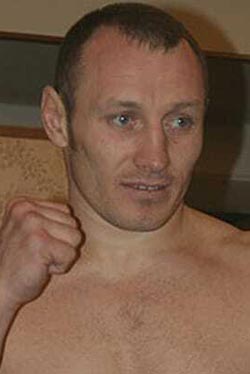 Igor was an old-school fighter who competed for many smaller promotions all around the world. Before making his way to Pride fighting championships in 1999.
Known as one of the hardest hitters in his division, standing at just 5 8″, he also competed for a time at heavyweight. Taking on opponents who sometimes outweighed him by over 100 lbs. Igor saw no challenge as too big and on many occasions knocked out the much larger man.
The stories of his childhood where his temper meant the local shops would close their doors until he had passed. Or that of him being smuggled into a prison to fight a mafia boss are those of legend.
But he will always be remembered as the stocky, more often than not smaller fighter. Who fought some of the biggest names in the sport's early days and won.
Melvin Manhoef
Many UFC fans may not be familiar with Dutch kickboxer and MMA fighter Melvin 'No Mercy' Manhoef. Known for his flashy gladiator-style style shorts and even flashier knockouts. Melvin stood at just 5 8″, yet competed from 170 lb up to the 240 lb heavyweight limit.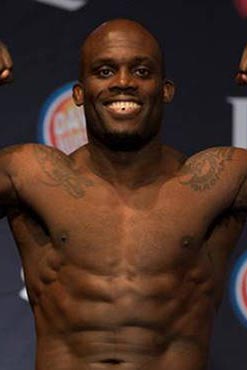 While he never actually weighed anywhere near 240 lbs. When he stepped in on short notice at K-1 Dynamite 2008 giving up an 82 lb weight disparity. He still managed to knock out one of the most durable heavyweights of all time in Mark Hunt. Stopping the Super Samoan in just 18 seconds of the first bell.
Never making it to the UFC, his fight against former UFC welterweight champion Robbie where he was winning. Before losing via vicious KO is another standout moment in the sport.
With a record of 32 – 14 and carrying a KO ratio of 91%. Manhoef is amongst a rare group outside of the heavyweight divisions to carry such a high percentage of knockouts. Truly an exciting fighter to watch compete and I also heard a really nice guy when not donning those 4 oz gloves.
Roy Nelson
Roy Nelson may not have made it to the top of the UFC heavyweight division, but he had fought many of the best along the way. Nicknamed 'Big Country', former TUF coach Quinton Jackson renamed him 'The Moon' during the recording of the show.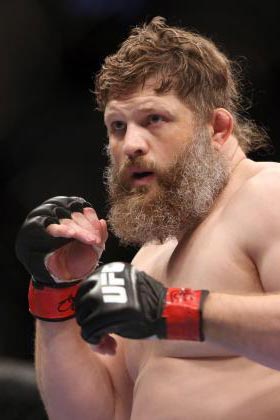 This was of course due to his quite unusual physique for an elite professional MMA fighter, owing to his large stomach which he loved to stroke after a victory. Rubbing it in the noses of those who believed he needed to lose weight.
A skilled veteran, Roy was not just good on the ground, but he also knocked out plenty of his opponents. And his rather odd frame may very well have played a role in his ability to do so.
Not athletically built, he would load up his big right hand. Quite literally clubbing his opponents into unconsciousness on his way to yet another victory.
His battle with fellow big puncher Mark Hunt was seen as a showdown between the two hardest hitters in the UFC. With the New Zealander coming out on top with yet another vicious walk-off KO. And one of the very few times he had lost via KO in his career.
Francis Ngannou
From sleeping under bridges in Paris France to becoming one of the most famous heavyweights in UFC history. And all that before even capturing a championship.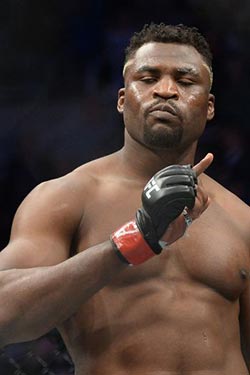 During his relatively short time in the UFC, Ngannou became known as one of the hardest punchers in MMA.
Knocking out five of his first six UFC opponents, he will forever be remembered for his devastating uppercut finish to future Hall of Famer Alistair Overeem.
The subsequent punching power test he underwent at the UFC Performance Institute would later give the highest recorded punch in the world with Dana White commenting;
"Francis Ngannou holds the world record for the most powerful punch. His punch is the equivalent of 96 horsepower, which is the equivalent of being hit by Ford Escort at top speed. It's also the equivalent of being hit by a sledgehammer being swung full force from overhead."

Dana White UFC 220 press conference
Will the most powerful punch recorded be enough to win him a UFC championship, we shall just have to wait and see. But there is no doubting the stopping power the Cameroonian brings when he steps inside the UFC octagon.
Image courtesy of businessinsider.com
Hi, I'm Ross and I am nearer to 50 than to 40! I have been involved in Martial arts and fitness for most of my life. With a professional working background as a licensed insurance agent. I wanted to share my journey with the world. So that others too can learn from my experiences.