Table of Contents
Introduction
Shop Best Selling Fighter Apparel and Merchandise
So cauliflower ear is one of the most obvious features we see on UFC fighters. In fact, it could be argued that some are as well known for their ears as they are for their skills. But are there UFC fighters who don't have cauliflower ear?
The answer is yes indeed. And while you might assume that it is part and parcel of being an MMA fighter. Some have had a different route to the sport than others. While others simply like to take care of the ears and so use head guards to make sure they don't end up looking like a certain Mr Couture or Ferguson.
So with that in mind, I wanted to run through just ten of the most well-known fighters who don't have it. So there are many more, but these are just some of the most famous current fighters on the UFC roster.
And while some may have a tincy wincy bit, it's not at all obvious. Speaking from personal experience, you can have cauliflower ear to a much smaller degree. Still extremely painful, but not blatantly obvious to the naked eye.
So let's take a run-through of these elite-level fighters who are currently active in the sport. A veritable veggie-free zone if you will, with some of the reasons for why which I will make clearer towards the end.
Anthony Johnson
Anthony Johnson is known as one of the most destructive punchers in the UFC. Having moved up from welterweight all the way to light heavyweight. AJ was able to carry the power he possessed with him, stopping some of the best 205 lb fighters in the world.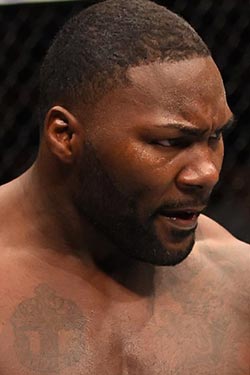 And another thing you might notice about Johnson is his lack of cauliflower ear. You may even go so far as to say his ears are actually pretty small. And maybe that has something to do with them not being deformed.
As Anthony does have a background in collegiate wrestling. It looks like he managed to avoid the veggie look altogether. No doubt wearing some ear protection played a huge role in their development. Something he has perhaps brought across into his MMA career?
But either way, it hasn't stopped him from being one of the fiercest fighters in the world at 205 lbs. And with two of his biggest rivals now out of the picture. He may be looking straight at a potential UFC title.
Anderson Silva
One of the very best to ever do it and one of the biggest names in the sport, whose ears do not bear the scars. The former UFC middleweight champion Anderson Silva has reached the highest highs. Followed by some of the lowest lows.
Having been a professional in the sport for over 22 years. God only knows how the 185 lb Brazilian phenom managed to keep his ears in tip-top condition?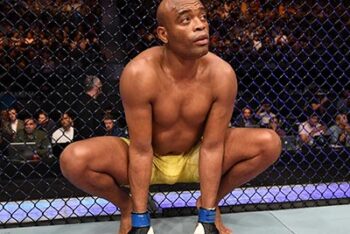 Well, it may have something to do with the fact that very few people were able to hit him. As we have seen throughout his career, The Spider made fools of so many who tried to take him out on the feet.
But even on the ground, you would have expected his ears to take a pounding during training. But obviously, Anderson was keen to keep that aerodynamic look. Maybe a requirement for one of the best pure strikers the sport has known.
Andre Arlovski
Andre Arlovski at one time was one of the most feared fighters in the sport. The former UFC heavyweight champion has fought the best of the best. Across most of many of the major MMA promotions.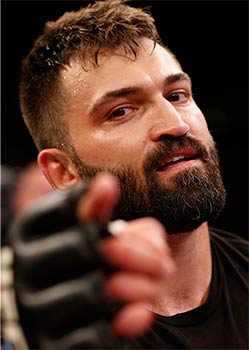 Primarily known for his boxing, the giant Russian fighter has somehow managed to not end up with cauliflower ear. Even while he has the title of International Master of Sport in Sambo. Basically, the Russian military's equivalent of mixed martial arts.
Perhaps down to the fact that many Sambo athletes tend to wear headgear. Which has perhaps saved him somewhat over the years? But Arlovski is still one of the best in the world at heavyweight.
And while he may be in the twilight of his career, The Pitbull still has some gas left in the tank. Whether or not it's enough to get him to his destination, we shall have to wait and see.
Francis Ngannou
When Francis NGannou burst onto the scene in 2015, he created an immediate impact. Knocking out opponents left right and centre, he was clearly on track to get a shot at the UFC heavyweight title.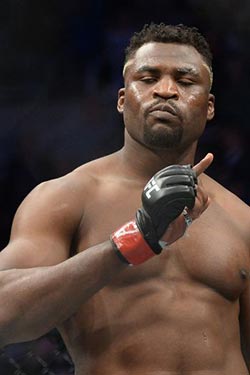 But fell short in his bid against champion Stipe Miocic. It hasn't stopped him from still being considered one of the very best in the sport. Not bad for someone who up until his mid-twenties had never even heard of mixed martial arts or the UFC.
Having zero experience in ground fighting, which his virgin ears kind of gives away. NGannou suffered when the fight has gone to the canvas. No doubt something he has been working on as he strives for another shot at the reigning champion.
Who knows, as his ground game progresses, perhaps his cauliflower ear will also? But for now, at least he is pretty reliant on the colossal knockout power he brings to the octagon. Let's see if he can add another dimension to his game.
Israel Adesanya
The Last Stylebender Israel Adesanya is the reigning UFC middleweight champion of the world. With seemingly little, he cannot do it on his feet. The African-born Kiwi has stormed his way to the top of the sport.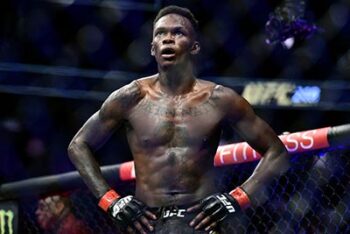 Known for his beautiful striking and flamboyant octagon entrances, Israel is a star and he knows it. But one thing which is also noticeable about the 185 lb champ is his rather small cauli-free ears.
It no doubt has a tonne to do with the fact that he came to the sport primarily as a kickboxer. And while he does grapple today, he's still nowhere near the level of some of the sports other greats.
But when you are that good on your feet, why even go to the ground at all right? So as his career progresses, no doubt will also the time he spends on his back. And maybe this will have an effect on those ears or will he avoid any damage there too?
Robbie Lawler
At one time Robbie Lawler was the UFC welterweight champion. Until a certain Tyron Woodley landed a left hand which sent Lawler back to his childhood.
But Robbie has been around the sport since before it was cool. And persists in being one of the very best in the world at 170 lbs. A former middleweight, Lawler has shone at the lower weight class and toward the end of his career.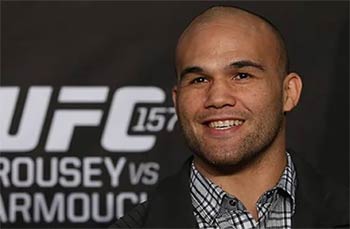 One of the scariest cats in the sport, even without a pair of deformed ears to match. It doesn't take away from the fact that he is one of the most feared strikers in the division. And after nineteen years in the sport must be doing something to keep his ears as good as new.
Will he get just one last opportunity for a UFC title? We shall have to wait and see. But perhaps a future Hall Of Famer in the making and part of one of the sport's most epic fights.
Robert Whittaker
Before Robert Whittaker won TUF Smashes, the former UFC middleweight champion was a professional Australian rugby league player. And if you know anything about rugby, it is that it's one of the most physical and rough sports in the world, outside of MMA of course.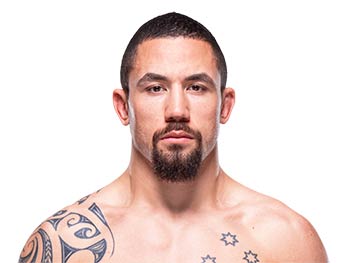 So between the two, how did he manage to keep his ears free of that cauliflower look? From being stuck in scrums, to having them tested on the mats. His auricles have been through it all and some.
So it is quite odd to see a guy who has spent such a large chunk of his life involved in high-impact sports. Not having the ears that bear the scars of so many wars.
Not only did The Reaper excel in sports before making the switch to MMA and being crowned the 185 lb king. But has also excelled in looking after those ears. Add to that a true professional and all-around nice guy.
Joanna Jedrzejczyk
The Polish assassin was at one time the most famous female fighter on the UFC roster. I might even go so far as to say for a period she may have been the most widely known.
Revered for her elite-level word-class Muay Thai striking. Joanna ruled the UFC strawweight division from 2015 – 2017. A killer inside the octagon, the standout striker managed to somehow avoid the dreaded "C."
Holding on to her, let's say girlie looks. She allowed her standup to do the talking and rarely has she taken it to the ground. Which may very well be the reason why she has managed to maintain her charms.
Now at the latter end of her career, she may very well have managed to avoid the fate of fellow female MMA star Ronda Rousey. Although Ronda does wear hers with pride. Not sure it would be such a good look for the pint-sized Jedrzejczyk.
Stephen Thompson
A top-ten welterweight Stephen Wonderboy Thompson is one of the best strikers to ever step inside the UFC octagon. And while he has contested the 170 lb championship two times, falling just short on both occasions.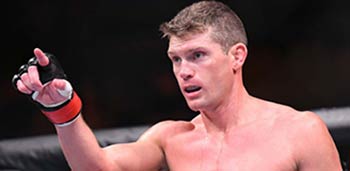 The fighter from Simpsonville, South Carolina has managed to keep his model looks, and that includes his ears. Even though he has spent much of his life competing. You would not know by looking that he has been fighting most of his adult life.
One of the very best in the world, his background Tetsushin-ryū Kempo Karate has stood him well in his quest for UFC gold. And still with those boyish good looks and some time on the clock. Will we see Wonderboy getting yet another shot at the 185 lb crown?
A tall order in a sport that is evolving every day. As one fighter passes their prime, another soon rolls up to quickly fill their spot. But at least he has managed to stay pretty well preserved and without that ear which many fear.
Weili Zhang
The women's UFC strawweight champion Weili Zhang arrived on the world MMA scene in 2018. Well, she has been fighting professionally since 2013. But it was her explosion in the UFC that immediately saw him shoot to worldwide prominence.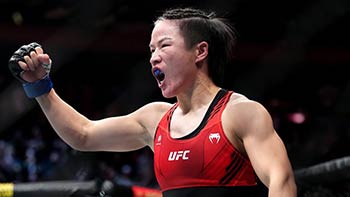 Hailing from Handan, Hebei, China. She has a background in Shaolin Kung Fu and Sanda or Chinese boxing. But her transition to MMA is what catapulted her front and centre in the world of combat sports.
Pretty much unheard of before taking the UFC title in 2019. Since then she has gone from strength to strength. Beating the former champion Joanna Jedrzejczyk, Zhang has looked outstanding. And I also mean that in terms of her ears.
As while she may be a purple belt in Brazilian Jiu-Jitsu. It doesn't seem to have affected his physical appearance. Managing to keep her ears cauliflower free, while at the same time being the best in the world at 115 lbs.
Final Thoughts
So does anything jump out as you look through this list? While all, of course, have a ground game, with some being highly proficient in BJJ and or wrestling. They are all primarily known to be strikers.
From Anderson Silva and Francis NGannou to Joanna Jedrzejczyk and Stephen Thompson. These are some of the best standup martial artists in the world. And have developed their MMA game around those skills.
And while they all train on the ground. It appears that at least these elite-level fighters have been pretty careful with their lugs. Managing to keep the (for some) dreaded cauliflower away, it hasn't diminished how they perform inside the octagon.
So a word of warning to some of the people out there who actively seek the vegetables on my head look. It won't necessarily make you a better fighter, but it will over time hurt like hell. So think wisely before you go all the way, as once you have them, there is no way back!
Hi, I'm Ross and I am nearer to 50 than to 40! I have been involved in Martial arts and fitness for most of my life. With a professional working background as a licensed insurance agent. I wanted to share my journey with the world. So that others too can learn from my experiences.