Table of Contents
Introduction
Pay in most sports is determined by the number of people that watch them, their age, gender and boxing really are no different. And so I was wondering how much a female professional boxer gets paid to compete.
Historically speaking female boxers have always earned less than men at a similar level. And professional women's boxers starting out get paid between $200 – 400 per fight. While Top-ranked fighters with name recognition earn on average around $51,000 per fight.
And this is not anything new in general when it comes to sports. The more people watch the sport, the more opportunity for advertisers and sponsors to make money.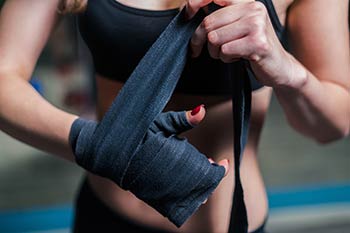 The more money those sponsors make, the more cash ends up floating around in that sport with which the athletes can get paid, at least that is how it is supposed to work!
From time and memorial men have been more inclined to take up sports. And according to a study done by the American Psychological Association. In every society tested, the data clearly shows;
"that males participate in sports at least twice as much as females in terms of frequency or duration. "

American Psychological Association – Sex Differences in Sports Interest and Motivation: An Evolutionary Perspective
I'm giving this perspective on the wage discrepancy to give some grounding to the reason why female boxers earn, for the most part, much less than their male counterparts.
While the market for female sports is growing, the vast majority of its fans are in fact, men. And getting men to follow female boxing is the key to its fighters earning bigger paydays.
And this is easier said than done in a marketplace that is now saturated with so many different combat sports, all at our fingertips and on demand.
Female Professional Boxers vs Male Salaries
In a 2018 boxing promoter, Lou DiBella commented that the majority of professional female fighters in the US fighting today earn less than $10,000 per fight. This lack of income forces many of the top boxers to have a second job in order to cover their ongoing costs.
When not honing her own boxing skills World champion Heather Hardy has gone on to make the move to MMA. Spends her days training an array of clients in the sweet science, all to make ends meet.
| | | |
| --- | --- | --- |
| Amateur Female boxer (USA) | Professional Female boxer (USA) | Professional Male boxer (USA) |
| $300 to $400 | $7,800 | $51,000 |
Average salary structure for female and male boxers.
And while Hardy made $7,000 for her title defence. On the very same card, a male boxer with the exact same record made $150,000. And 5-time world champion Amanda Serrano isn't all that too happy either, commenting that;
"Oh, it sucks, it's like day and night, black and white. I'm still fighting to get the pay I deserve."

Amanda Serrano interview 2018
This discrepancy in the wage structure between the two sexes isn't going away anytime soon. As men's boxing dominates the hearts and minds of fight fans. As female boxers get better, hopefully, the appetite to watch them perform will also grow in parallel.
When Did Female Professional Boxing Begin
While western-style professional men's boxing has officially existed since the late 1890s, the history of ungloved boxing dates back to ancient Greece. Women's boxing dates to the 1800s when Elizabeth Wilkinson fought both men and women in London.
In the US there were sporadic televised bouts throughout the 1940s and 1950s, some of which were televised, but no real solid appetite or market for their participation.
More recently we have seen a definite trend in the growing fanbase for women's boxing. But all the while, female boxers still do struggle on many fronts to break through to the mass markets.
"All the respect to all the women that box, we have more than one fight… we are fighting for equal pay and equal time on T.V… we don't get enough sponsorships or endorsements as the men"

Claressa Shields – 2x Olympic Gold medalist
In today's world, we do see a number of rising stars in women's boxing now breaking through, but they are few and far between. And while the vast majority earn a few hundred dollars for their fights. There are but a handful of fighters becoming wealthy through the sport.
Opponents In Boxing
Fighting is all about a storyline and if you have two fighters who fans are familiar with and want to see slug it out, this will generate more revenue and earn the fighters more money.
Take Floyd Mayweather vs Manny Pacquiao, the reported biggest payday fight in boxing history. Why? Because ten's millions of fans tuned in around the world and paid to watch!
When it comes to women's boxing there are no names that can generate interest anywhere near a fight of that magnitude. But some can certainly generate their own level of interest and currently appear to be doing just that.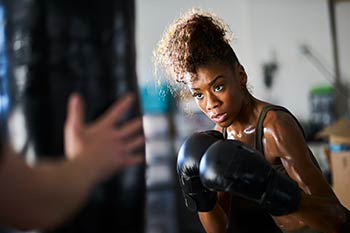 With big title belt clashes now occurring more and more regularly. Are we finally seeing the dawn of a golden era for female boxing? And while not yet headlining their very own pay-per-view cards.
We are now seeing a lot more women on the undercard, giving them more exposure. And opening up a whole new fanbase for which women can perform.
This exposure to the masses on the biggest stage possible is something female fighters will have to grasp with both hands if they are to bring their earnings to the next level. And with some taking up the challenge, there is hope that things will improve for some, at least in the near to medium term.
Weight Divisions In Female Boxing
There are a total of 17 weight divisions in women's boxing and the weight divisions between male and female boxing as almost the same. With differences are only at the extreme where super welterweight and cruiserweight apply only to men.
Female fighters have additional junior middleweight and mini-flyweight divisions. While in the heavyweight division, women must weigh in at 175 lbs, their male counterparts must weigh at least 200 lbs.
| | |
| --- | --- |
| Division | Weight in lbs |
| Strawweight | up to 102 |
| Mini Flyweight | up to 105 |
| Junior Flyweight | 105 to 108 |
| Flyweight | 108 to 112 |
| Super Flyweight/ Junior Bantamweight | 112 to 115 |
| Bantamweight | 115 to 118 |
| Super Bantamweight/ Junior Featherweight | 118 to 122 |
| Featherweight | 122 to 126 |
| Super Featherweight/ Junior Lightweight | 126 to 130 |
| Lightweight | 130 to 135 |
| Super Lightweight/ Junior Welterweight | 135 to 140 |
| Welterweight | 140 to 147 |
| Junior Middleweight | 147 to 154 |
| Middleweight | 154 to 160 |
| Super Middleweight | 160 to 168 |
| Light Heavyweight | 168 to 175 |
| Heavyweight | over 175 |
Female boxing weight divisions.
This difference in terms of the bigger weight classes has plagued combat sports for generations. Smaller fighters have always had issues in building a fan base as for many fight fans, knockouts are the holy grail of combat sports. And this is one of the deciding factors as to why the heavyweight division is the most popular of all.
So with the majority of women's boxing ending in points decisions. There is a definitive lack of interest from some fight fans in watching who want to see fights that end with stoppages.
Costs of Being a Boxer
And while the vast majority of both male and female boxers earn barely enough to get by. Their costs incurred while participating in the sport are always evident.
Between training camps that can run from many weeks to months. Paying trainers, nutritionists and physiotherapists. The travel and hotel costs incurred when travelling to their fights. There is always somewhere for the bulk of their earnings to go.
| | |
| --- | --- |
| Team | Percentage of Purse |
| Boxer | 35-40% |
| Promoter | 25% |
| Manager | 25% |
| Trainer | 10% |
| Cutman | 2% |
Average expenses from fight purse.
Boxers will on average pay their trainers up to 10% of their purse, with managers taking another sizeable portion which varies from manager to manager.
And with all of these costs racking up, many female fighters choose to train others or hold down another job. All of this while trying to break through in their own sport. It's a tough ask for anyone, never mind a person who wants to punch and get punched, risking their own health to earn a living.
Sponsorship Potential In Women's Boxing
Sponsorships can play a huge role in earnings for fighters. And while there are no doubt some potential lucrative deals out there for female boxers. Juxtaposing the tough sport of boxing with women and finding the right product that will capture the imagination of people can be a difficult sell.
There are several companies that sponsor boxing at various levels, including major fights, individual boxers, and amateur competitions. Some of the main companies that sponsor boxing include:
Everlast: A company that produces boxing equipment, including gloves, heavy bags, and training gear. Everlast sponsors many professional boxers, including Canelo Alvarez and Deontay Wilder.
Under Armour: A sports apparel company that sponsors several boxers, including Gervonta Davis and Anthony Joshua.
Puma: A sportswear brand that sponsors various boxers, such as Sugar Ray Leonard and Manny Pacquiao.
Top Rank: A boxing promotion company that organizes many high-profile boxing events, including fights featuring Terence Crawford, Vasyl Lomachenko, and Shakur Stevenson.
Matchroom Boxing: A British boxing promotion company that works with many top boxers, including Anthony Joshua and Katie Taylor.
Golden Boy Promotions: A U.S. boxing promotion company founded by Oscar De La Hoya, which promotes many popular boxers such as Ryan Garcia and Jaime Munguia.
These are just a few examples of the many companies that sponsor boxing at different levels. And while we do see some big leaps forward in terms of sponsorship for other female sports by brands such as Barclays, Visa and Adidas. It's critical that we see more in the way of sponsorship deals for female boxers.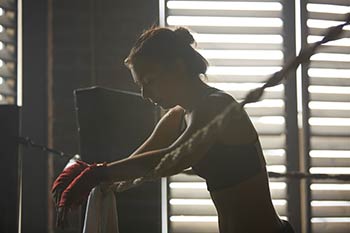 As the sport of women's boxing continues to grow, sponsors who get in early for their efforts may very well find themselves with some bargain basement value for money. As these little-known female fighters finally go mainstream amongst the boxing fanbase.
Who Are The Best-Paid Female Boxers
While there are a number of big-name female boxers earning relatively good money from their fights. Very few are earning big money like their male counterparts.
Fighters such as the 22-year-old WBC and IBF female super middleweight Clarissa Shields are reported to be worth an estimated $3 million. This is a combination of her amateur and professional earnings, as well as activities and sponsorships outside of boxing.
But it's Ireland's Katie Taylor who has gone on to be the first women's champion to earn over one million dollars for a single fight, making her the highest-paid female boxer of 2019. It's the kind of money that is unheard of in women's boxing circles and puts Taylor on another level when compared to her peers.
And with Taylor's fight against Belgian powerhouse Delfine Persoon in 2019 pocketed her the biggest payday in women's boxing history. The sky really is now the limit for her and perhaps the other women boxers bringing up the rear who would hope to emulate the Irish boxer's massive windfall.
The Ronda Rousey Effect
When it comes to women fighters who have pushed the envelope and broken through the perceived glass ceiling, the name Ronda Rousey is often cited. While many female fighters came before her, it was Rousey who managed to force her way into the biggest MMA promotion in the World, the UFC. Setting the wheels in motion for others to follow.
And while MMA and boxing are two different sports, the Ronda Rousey effect can not be underestimated in terms of its impact on women's combat sports as a whole. Where once people such as UFC President Dana White said he would never put on a women's MMA fight. When she was competing, Rousey went on to be the sport's biggest star.
In 2018 Forbes ranked Ronda Rousey as the 5th most marketable female athlete in the world. And that is an athlete and not a fighter, so it just goes to show you how important her time at the top has been in the world of combat sports.
Again, higher marketability equals bigger paydays for all involved. And so Rousey is rightly recognised by female boxers and MMA fighters for raising their status in their respective sports.
In Conclusion
The debate about how much female boxers should be paid is one that will continue. While female boxers dedicate themselves to their sport, putting their health on the line each and every time they step into the ring. It's the fans themselves that will decide to what degree and at what pace the sport grows.
Television networks and advertisers are looking coldly at the numbers. And when a talent comes along that stokes the interest of the watching public. It's the exact same people that will be first to push that boxer into the limelight to cash in on their growing marketability.
Katie Taylor is one of the very few women in the sport of boxing to truly breakthrough into the mainstream. And with her along with fighters such as Ronda Rousey piquing the interest of both male and female paying fans, it's a marketer's dream made in heaven.
With elite male boxers making in the hundreds of millions for their fights. Will the day ever finally come when we see female boxers on parr, earning huge paydays for putting themselves in harm's way, only time will tell. But until that time comes, let's enjoy watching women's boxing evolve and flourish based on its own merits.
Hi, I'm Ross and I am nearer to 50 than to 40! I have been involved in Martial arts and fitness for most of my life. With a professional working background as a licensed insurance agent. I wanted to share my journey with the world. So that others too can learn from my experiences.