Table of Contents
Introduction
A question that often arises is whether the UFC offers its fighters health insurance. As though the proliferation of social media, its contracted athletes will sometimes air their grievances publicly on what they are unhappy about in their job.
The UFC does offer immediate insurance coverage to fighters who are injured either during competition or their pre-fight training camp. This health insurance is only applicable to active roster fighters.
As for the issue of what happens to fighters once they retire from the sport. That itself is yet another ongoing puzzle that up until very recently has yet to be resolved. But there does appear to be some signs that the UFC may potentially be preparing to offer its former fighters ongoing personal healthcare support.
Shop Best Selling Fighter Apparel and Merchandise
In a Twitter exchange with a fan, when asked about offering its fighters "full-time health benefits." UFC President Dana White responded with a simple, yet promising "Soon." So at first glance, this would sound like a positive comment.
Now with many fighters suffer from a whole host of ongoing medical conditions after their career is over. And no current plan in place to assist their former contracted employees. Any help that can be offered from the company that they helped catapult to such huge highs can only be a good thing.
It is very much a hot-button topic for the MMA promotion, which as a for-profit company has always found a way to avoid dealing directly with the issue. And it is very much something deeply intertwined with the other big elephant in the room, that of fighter's pay.
Who Actually Insures UFC Fighters
In their original policy, UFC only covered fighters when they suffered an injury during one of their scheduled bouts. Then in May 2011 they additionally added injuries incurred during training camp and also automobile accidents. In policy cover which was issued by Houston Casualty Insurance Company.
This customised medical care was put in place to cover both the buildup to a fight and the event itself. Helping to cushion the athletes from out-of-pocket medical expenses while preparing to compete as independent contractors.
Another way for the UFC to keep their pseudo-employees at arm's length. Or at least this is the accusation of some both past and present fighters. With some suffering life-changing injuries from competition. Certain fighters have not been too shy in letting their feelings be known very publicly.
But it would also appear that not all fighters want some of their pay to be docked, in order to fund any coverage they might receive in the post-fighting life. At least this was the opinion of Dana White in his UFC 263 post-fight press conference, saying:
"I don't know about healthcare forever. Does anybody have a job where they have healthcare forever when they leave? I mean, that's pretty f—ng crazy."

Dana White – UFC 263 post fight scrum
And while White is the President of the company which will be footing the bill. It does make a lot of sense when you realise that not all of these fighters make big paydays. With many struggling to make ends meet, even while competing for the single biggest mixed martial arts promotion in the world. The thought of seeing their meagre wage packets reduced even more for some future gain is still a big barrier for some.
And with the UFC as always clutching their purse strings ever so tightly. The actual implementation of lifelong health insurance for fighters is probably as far off as any other time.
Joe Rogan Pays MMA Fighters Medical Bills
A case in point is that of UFC commentator Joe Rogan taking care of the medical bills of MMA fighter Miriam Nakamoto. In 2013 after suffering a bad knee injury in a fight with Lauren Murphy. And at thirty-seven and fearing the worst for her career. Rogan felt the need to step in to cover the costs of her rehabilitation.
Not something that will happen to most active fighters in smaller MMA promotions. Who unfortunately are forced to foot most of the bills for injuries incurred during their fighting careers.
What Type of Insurance Do UFC Fighters Have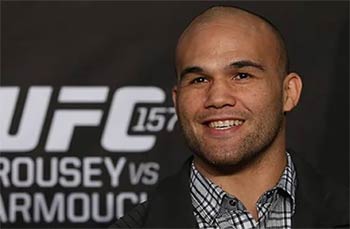 The issue of ensuring fighters has always been a precarious one for the promotion. In a sport which differs from almost all others. In an environment where the aim is to hurt or stop your opponent.
Where fighters are given cash incentives to make the fight as entertaining as possible for the crowd. There is a clear correlation between damage received during competition and fighters' ongoing health problems.
Medical cover has remained one of the most critical aspects in a sport where an injury is part and parcel of competing. And so a UFC kitty of $50,000 per fighter to cover any medical costs while under contract is a step in the right direction.
While the inner workings of the insurance contract may not have been made public. From what we do know, we can estimate what should be involved under the coverage. And below you will find a non-exhaustive list of benefits from most fighters' health policies.
UFC Insurance Policy Benefits
Here is a typical insurance policy breakdown for combat sports athletes. The UFC may vary slightly, but we can at least get a good idea of what perspective fighters will receive as part of their UFC contract.
Hospital room and board plus any ancillary hospital expenses
Medical Emergency Care, any expenses include the cost of attending a physician
X-rays, including outpatient diagnostic x-rays
Use of the emergency room and supplies
Laboratory procedures and test expenses
Physiotherapy (physical medicine) expenses
All dental work
Overall life insurance.
It also has to be pointed out that while UFC's fighter health insurance may not be perfect. None of the other major MMA promotions offers any long-term coverage for their fighters including PFL, ONE Championship or Bellator MMA.
Is There Free Health Insurance Cover for UFC Fighters
While there is significant coverage for active fighters that covers almost all potential incidents. Luckily the fighters are in no way liable to cover any costs. Meaning they do indeed receive free fighter health insurance, but only up to a value of $50,000. And although this is a big number, costs can rack up pretty quickly when your day job is the hurt business.
Stories abound of some lower-tier fighters having passed on paying for their own insurance. There are many stories of athletes in the exact same predicament as Ms Nakamoto. Deciding to try and skimp on certain outgoings, often to the detriment of their personal health.
Very little is free in the world of professional fighting. In a sport where competitors sometimes put their very lives on the line. Health insurance for fighters that at the very least covers the current medical bills has to be a good thing. But to what degree the UFC is willing to take things to the next level and offer lifelong coverage is a totally different animal.
In Conclusion
When it comes to the Ultimate Fighting Championships, nothing is free. And it's one of the very reasons for the company and mixed martial arts have grown at such a rapid pace. With massive sums of money being made, huge paydays were only ever limited to the very biggest names in the sport.
So while each fighter takes the same amount of risk, in the end, they do not see an equal piece of the pie. So we would hope that as the sport does continue to progress and inevitably get bigger. We see future initiatives designed to cover these fighters with adequate health insurance.
After all, they do for us fans in terms of entertainment. For all the money they make the shareholders of the UFC. The very least that can be done is for those who benefitted the most to give something back to their workhorses. The ladies and gentlemen who make the sport of mixed martial arts, are amongst the very best sports in the world.
Hi, I'm Ross and I am nearer to 50 than to 40! I have been involved in Martial arts and fitness for most of my life. With a professional working background as a licensed insurance agent. I wanted to share my journey with the world. So that others too can learn from my experiences.