In the grand scheme of things, mixed martial arts may be a relatively young sport. But this does not mean that to date in its relatively short life, there has rarely been so much that has happened in such a short space of time. So how about some crazy MMA Facts and history?
Fast becoming one of the most beloved combat sport on the planet. MMA has caught the imagination of fans around the world. Still, in its infancy, the sport continues to go from strength to strength and create some of the greatest memories in all combat, so let's take a looks t some
Shop Best Selling Fighter Apparel and Merchandise
Ten Percent Of The UFC Is Owned By Dubai
Commenting at the time of the sale the UFC president Dana White said the Abu Dhabi-based Flash Entertainment will "keep its share, for now". And with the UFC looking to expand more into the middle east and Asia. That Arab oil money will surely keep the wheels greased.
Something which not a lot of people not might know. Is that the small emirate nation of Dubai owns a ten percent slice of the UFC! And while the UFC may have been sold to WME IMG. Dubai still maintains its holding in the promotion.
The Octagon Design Was Inspired By Chuck Norris
Designed by art director Jason Cusson, the UFC Octagon was inspired by a pretty average movie called "The Octagon". And in it, a retired kickboxer played by the martial arts legend Chuck Norris. It was the movies name and fighting scenes which led Cusson to focus his designer's mind on the upcoming first-ever UFC event.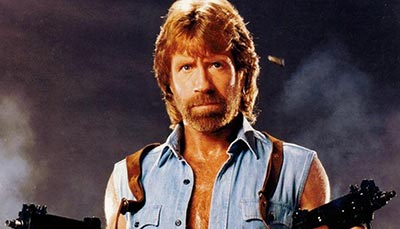 Cusson himself commented, "It was just the name of it … I don't even remember if there was an actual octagon in the movie." It's was his brainchild from a not so memorable fight movie that went on to be part of mixed martial arts history. Inspiring a myriad of copycat designs from around the globe which all base their basic structure on that of the UFC's Octagon.
Zuffa Purchased The UFC For 2 Million Dollars
Yes, it is true, Zuffa LLC purchased the UFC back in 2001 for a measly 2 million dollars. While the sport had been extremely popular amongst fight fans. Politicians and government were coming down hard on what was once referred to as "human cockfighting."
So Dana White and the Fertitta brothers had their hands full bringing the ultra-violent sport out of the shadows and into the mainstream. Fifteen years later the fruits of their labour (and mostly the fighters labour). Would see the promotion sell for over 4 billion dollars. Not a bad return and a firesale.
David Tank Abbott Appears In The TV Series Friends
Tank Abbot was known as a biker and brawler before becoming one of the most feared punchers in the UFC. The pot-bellied heavyweight known for his vicious knockouts is much less well known for his appearance in the hit TV sitcom Friends.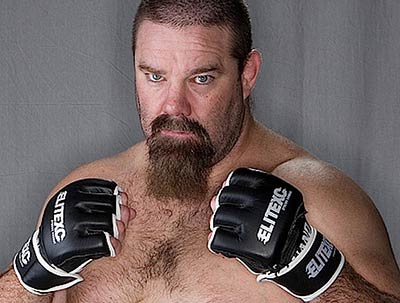 The episode features Monica's boyfriend Pete announcing he is going to become an MMA fighter and the UFC champion. Pete manages to land in a fight against Tank Abbott which unsurprisingly doesn't go his way as Tank knocks him down, then out, by stamping on his neck.
Pankration Fighting Was The First True Mixed Martial Art
The sport of Pankration dates back to 648 BC when it was first introduced to the Olympic Games. Pankration was the very first true mixed martial art. Its participants were known as Pankratiasts which was a central element of the Greek military hand to hand combat training.
Combining wrestling, striking using hands and feet, as well as fighters having to quickly get back to their feet. It was designed for when a soldier might lose their weapon in battle and have to use bare hands and feet to defend themselves. The ancient fighting art of Pankration very much lends itself to today's modern mixed martial arts fighting style.
The UFC Belt Is Made From Gold And Worth How Much!
It doesn't just look like it's Gold, the UFC Championship belt is actually made from Gold. The belt itself weighs twelve pounds and is supposedly worth approximately 330,000 dollars back in 2010.
Obviously the price of Gold swings wildly so as of this moment right now, it could be worth a whole lot less or even a lot more! But knowing how Zuffa has historically paid most of its fighters, I wouldn't be melting the belt down anytime soon. I am thinking gold leaf as opposed to solid gold, I know you feel me.
Zuffa Means What In Italian
Zuffa is not an acronym or neither is it the name of the Fertitta brothers first pet dog. The word Zuffa is found in the Italian language and actually means "scuffle" or "fight". So yes it most definitely does sound Italian and it turns out it also has a very appropriate meaning to it.
Zuffa was formed by the Fertitta's to be the parent company for the Ultimate Fighting Championships allowing the brothers and President of the promotion Dana White future flexibility in terms of expanding their fight promotions.
That's Tooth Much MMA Facts Man!
Back in UFC 1, there was a now-infamous incident when Gerard Gordeau landed a kick to the face of big Hawaiian Telia Tuli. The resulting damage saw some teeth shooting off into the crowd, leaving a downed Tuli in a bad condition.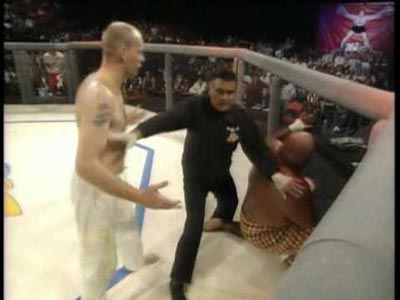 What is little spoken about are the other teeth Tuli lost, the ones that became embedded in the foot of Gordeau. And competing in a further two scheduled fights on that night. The decision was made by the doctors to leave the teeth in the foot until after the fights. Gordeau did fight two more times that night, losing in the finals to one Royce Gracie.
Dana White The Boxer
While there was plenty of animosity between the UFC President Dana White and fighter Tito Ortiz. The much-hyped boxing match between the two never quite materialised. And while White was known to be the guy who trained fitness and boxercise classes.
He claimed to have spent some time in the ring but not as a pro. He claims to hold a record of 13 – 4 as an amateur boxer and although some have screamed foul on his stats. Others say that back in the 1980's unsanctioned local smoker fights were commonplace, so White's story may not be so far fetched after all. I am not so sure after watching him hit pads, not exactly fluid motion.
Fighter Beats Opponent Same Way, In The Same Time, Twice!
Mixed martial artist Brian Bowles defeated Damacio Page when he fought in both the WEC and then the UFC. But the most striking thing about this victory was the fighting statistics.
In the WEC Bowles stopped Page via rear-naked choke at 3 minutes 30 seconds in the first round of the bout. And when the pair faced off for a second time, this time in the UFC, Bowles once again beat Page. But more shockingly, he beat him in 3 minutes 30 seconds of the very first round. Did I hear anyone say SNAP?
Cain Velasquez Was A Nightclub Bouncer
Back in the day when the former UFC heavyweight champion Cain Velasquez was trying to break into he sport of MMA. To make ends meet he would moonlight as a club bouncer to make ends meet.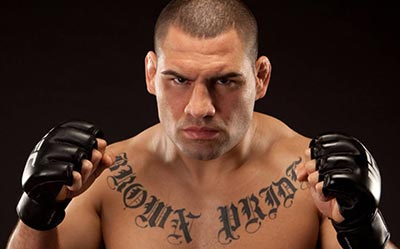 And many nights after finishing his work in the club, Velasquez was too tired to drive home. Then the very next morning drive back to the gym to train. Would spend the night sleeping in his car, in the car park of the local Home Depot, just across the road from his gym.
Bas Rutten's Quantum Leap
Back in the heyday of Pride Fighting Championships. Bas Rutten and partner Stephen Quadros would provide the English commentary to the fight card. This pre-recorded tape delay would then later be broadcast to a worldwide audience. Meant that El Guapo could, in fact, be in two places at the very same time.
For while Rutten commented on the fights. He would sometimes also be seen cornering his fighters inside the Pride ring. This unusual situation often led to Bas commenting on both his own fighters and the corner situation in which he had just found himself.
Matt Serra First US BJJ Blackbelt Under Renzo Gracie
Matt Serra may be most widely known as the guy who beat the guy, one Georges St-Pierre at UFC 69 for the welterweight title. Causing one of the biggest upsets in mixed martial arts history.
What's not as well known about the New York native is that he was the first American to earn a black belt under the tutelage of Renzo Gracie. It's an accolade that places Serra in the history books for more than just the St-Pierre win. But he's still an angry guy!
Longest Win Streak Igor Vovchanchyn
Now you really have to be an old school fight fan to remember this guy. Igor Vovchanchyn was one of the scariest dudes both inside and outside the cage. Known for his fearsome punching and willingness to take on anyone. Vovchanchyn also holds the record for the longest win streak in all MMA. Standing at 32 straight wins, with one no contest, his record still stands to this day.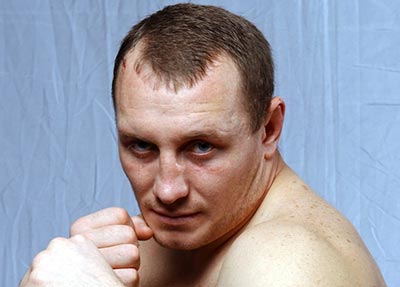 As a side note, there were stories from Russia of Igor as a young boy who when he would get mad, the local shop owners in his village would close their doors. As the uncontrollable child would tear through the streets smashing everything as he went! Just watch his fights to get a feel for the fiery Russian.
Jeff Monson The Child Counsellor
While this MMA heavyweight may be known for his muscled tattoed body and anarchist beliefs. It's the softer side of Monson that has gone pretty much unknown for the majority of his career.
An elite-level grappler and Brazilian Jiu-Jitsu competitor. Jeff Monson also holds a Master's degree in psychology. Having worked in the fields of crisis management and child counselling. Now look at some of his fights and tell me you would have ever thought that?
Alligators And Mixed Martial Arts
When it was first conceived the Ultimate Fighting Championships went through a number of iterations before deciding on its now-signature Octagon cage with wire fencing.
But did you also know that at one point the idea of using Alligators and a moat around the cage was actively discussed? There may have even been some electric fencing thrown in there for good measure if someone had their way! Now we are not sure exactly how far this idea went. But I for one am happy it went no further than the design book.
Mauricio Shogun The Model
Looking at Mauricio Shogun Rua today and you probably would not think that he was at one point a successful model. Seeing some of these fighters now versus the earlier part of their careers and the physical changes are sometimes shocking.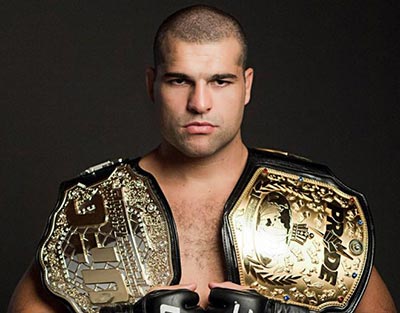 But it is, in fact, true that before becoming one of the most feared men in MMA. The Brazilan powerhouse was a male model. And now knowing the amount of damage he has taken over the years, I am not sure how long he could have run his careers in parallel.
Chuck Liddell A Movie Star
While Chuck Liddell is best known for the movies he made since becoming a famous MMA Fighter. The UFC champion actually made his screen debut many years before as a child actor, alongside movie legend Jack Nicolson.
Playing the part of a young scout as an extra in "The Postman Always Rings Twice". I am wondering if the experience in any way prepared him for becoming one of the most beloved fighters in the sport's history. Sure he was throwing some hands in his scene, but nobody got Ko'ed.
Fedor vs Randy Couture The Fight That Almost Happened
Two legends of the MMA world are Fedor Emelianenko and Randy Couture. Both competed in the Rings – King of Kings tournament which took place back in 2000. The pair would have eventually met except for Fedor receiving a cut and losing via TKO doctors stoppage to Tsuyoshi Kosaka. While Couture lost via submission to Valentijn Overeem, brother of Alistair Overeem.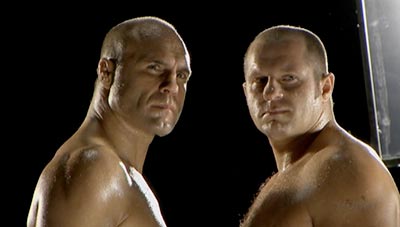 It was a fight that had the MMA world was buzzing for many years, but unfortunately never happened. With Fedor's world-class Russian Sambo and Couture's Olympic level Greco Roman wrestling. This would have been a fight for the ages. But in the end, Fedor's overall skills may have been the difference, I'm just saying.
Rampage Jackson vs Igor Vovchanchyn
Igor Vovchanchyn was one of the most feared men in all MMA and Quinton Jackson was trying to get to become that guy too. But in a hilarious incident between the two back in 2002. The pair had a lighter moment during their pre-fight face-off.
As during the staredown between Jackson and Vovchanchyn at PRIDE 22. Rampage gave Igor a note, allegedly from his mother that read, "Please don't hurt my son." To this day we still do not know if mama penned it or not. But knowing Rampage's sense of humour, the likelihood is it was the man himself who tried to pin it on his mom.
In Conclusion
In the world of mixed martial arts, craziness and controversy are usually not too far away. It's a violent world where grown adults climb inside a padded cage to inflict pain and punishment on one another and we fight fans love it.
So bring on the next 20 crazy MMA facts and history as I am sure it is just around the corner, we just have to let nature take its course. So enjoy the ride fight fans!
Hi, I'm Ross, at 40 years plus, I have been involved in the Martial arts for most of my life. Along with my first pet Collie dog named Tyson, RIP. My journey in the world of Martial Arts is something I want to share. So that others too can learn from my experiences.